About Us – the Modish Story.
Welcome to the Modish About Us page. I started Modish, a small design and build retail studio, mid 2019, as I was looking for a change in direction after several years in management. Good contemporary design and working with wood have always been my passion. Even as a small child I was always tinkering in the garage alongside my father. Modish brings together years of design-and-make skills, and my passion for quality "made-to-last" household items. Being eco-friendly and zero waste are important aspects of the Modish vision.
I have a number of products available on the Modish website, designed to help soap makers at all levels – from hobby to professional. Our catalogue of designs and creative pieces is growing all the time. Plus, ideas aplenty!
Some products are available with wholesale pricing – please complete the contact form and I'll be in touch.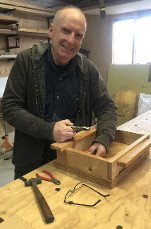 All wooden pieces are designed and hand-crafted in South Canterbury. We use locally sourced timber and prefer using Cypress Macrocarpa for most products. It is a sustainable timber as it dries naturally for 12 months, is chemical-free, and naturally resistant to rot and insect attack. Plus, it looks and smells great!
I also design a variety of durable stainless steel products, and have registered designs for my popular Dish Swish soap shaker (also known as a soap cage) and Soap Step soap dish, both manufactured to my specifications, in New Zealand and off-shore.
Thanks for reading about us. Many thanks too, to all current and future customers.
Rich.